Environmental Hazards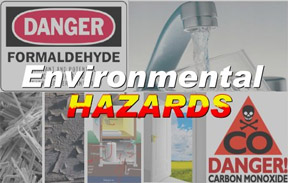 Environmental hazards like asbestos, carbon monoxide, formaldehyde, lead, and radon are outside the scope of a typical home inspection. However, many homebuyers and homeowners are concerned about these dangerous and sometimes life threatening hazardous materials existing in their homes and for that reason, environmental hazard inspections are often included as an additional service when someone purchases a home inspection.
Approved for 8.0 CEUs by ASHI (American Society of Home Inspectors)
Approved for 8.0 CEUs by NAHI (National Association of Home Inspectors)
This course is an introduction to environmental hazards as they relate to the housing and construction industry. Each lesson identifies a specific hazard, how to recognize it, how people become exposed to it, how to test for it, and ways to mitigate the problem. After completing the course, you will be more aware of the environmental risks that exist and how to protect yourself and others. You will also learn if a license or certification is required to conduct professional testing or abatement services for clients.
Continue to More Information About the Environmental Hazards Course