Infrared Courses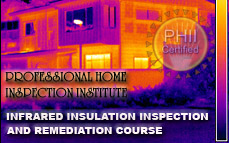 As energy costs continue to rise, so do homeowners' concerns about conserving energy and reducing heating and cooling costs as much as possible. The Thermal Insulation Inspection & Remediation Course from Professional Home Inspection Institute will teach you how to use an infrared camera to inspect a home for insulation defects, missing insulation, or inadequate insulation.
The course is interactive and can be taken online or on cd-rom. You are given both options so you can access the course through our website or on cd-rom if you don't have an internet connection. The course contains text, audio, videos, images, diagrams, flashcards, and quizzes. At the end of the course, there is a final exam that is taken online and will provide you with your certification.
Discounts on Infrared Cameras
After you have completed this course, you are eligible for discounts from various infrared camera companies and infrared camera distributors. (Details in the course)
Infrared Thermal Inspection & Insulation Remediation Course Topics:
Infrared & Insulation Terminology
Attic Insulation/Ventilation
Basement Insulation
Crawlspace Insulation/Ventilation
Wall Insulation
Straw Bale Insulation
Windows and Doors
Cathedral Ceilings
Thermal Inspection Techniques
How to Use an Infrared Camera
Insulation Remediation
and more!

Click the link for more information about the Thermal Insulation Inspection & Remediation Course