Radon Measurement
The intent of radon testing and inspection is to assess the level of radon in the home, uncover places of potential radon entry, and inform the clients of the test results and the possible need for follow-up testing and/or mitigation. Radon inspection has specific limitations. It typically includes only those areas of the building that are readily accessible and is limited to visual observations and a limited sample of the radon levels in a home. Most radon measurements are performed over a 48-hour period and therefore provide only a snapshot of the radon levels in the home.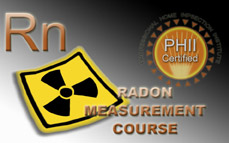 Take the Interactive Radon Measurement Course Online and on CD-ROM
The Radon Measurement Course will teach you how to take radon measurements in a home according to national guidelines. The Professional Home Inspection Institute Radon Measurement course is approved by the National Radon Safety Board, NRSB, and by the National Environmental Health Agency, NEHA.