Basic Home Inspection Course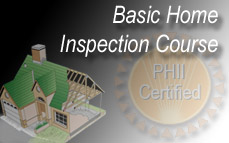 The Residential Basic Home Inspector Certification Course will teach you what you need to know to become a professional home inspector. The course is based on national standards for home inspection and teaches you what is included in a home inspection, how to inspect the systems and components in a home, and how to report your findings to the client.
The course includes online access as well as a CD-ROM that can be used to access the course material. You also receive a Home Inspection Forms CD-ROM that contains templates for checklists, report forms, and pre-inspection agreements so you'll have the forms you need to do home inspections. The course also comes with two home inspection training DVD videos, a course companion DVD and a Defect Recognition DVD. Student manuals and forms manuals are also included with the Home Inspector Certification Course.
Lesson 1: Common Terminology
Learn the common terminology used in home inspections

Lesson 2: Limits and Exclusions
Understand pre-inspection ageements and liability
Identify what is to be excluded from the inspection
Understand the term life expectancy of systems
Understand the term efficiency and adequacy of systems
Understand your role in explaining causes of a major repair
Understand who is responsible for making corrections
Understand the role of code and regulation compliance
Understand the concept of property marketability
Understand the concept of suitability for a use
Learn when pest inspections should be excluded
Understand your role concerning environmental hazards
Your role when component controls are blocked by obstacles
Understand your role concerning hidden components
Understand your role when components do not respond
Learn to identify components not permanently installed
Learn to recognize when components are unsafe to operate
Understand your role concerning concealed or latent defects
Understand the concept of engineering recommendations
Understand the role of warranties or guarantees


Lesson 3: Site, Grounds, Grading
Identify and describe the type of Driveway
Identify and describe the Sidewalks and Walkways
Understand how to evaluate Retaining Walls
Learn what is correct Grading and Drainage
Describe the condition of a Patio or Terrace
Describe the condition of a Deck or Porch
Understand how to evaluate the Steps to a Building
Identify and describe the property's Out Buildings
Learn the proper appearance of Window Wells
Understand how Trees and Shrubs affect the property
Identify and describe the type of Fences and Gates


Lesson 4: Exterior & Structure
Understand how to identify the building Type and Age
Identify and describe the type of Foundation and Columns
Identify the properties of the Exterior Wall Structure
Identify and describe the type of Exterior Wall Covering
Understand common defects on Wall Coverings
Describe the type and condition of Exterior Doors
Describe the type and condition of Exterior Windows
Identify the type and condition of exterior Trim
Locate and evaluate the Eaves, Soffits, and Downspouts
Locate and describe any exterior fuel service and piping
Identify and describe the Exterior Receptacles
Understand how to evaluate the Exterior Chimney


Lesson 5: Roof Components
Learn how to identify the Style of Roof
Evaluate and describe the type of Roof Covering
Understand how to identify common roof leaks
Learn how to describe the method of roof inspection
Describe the type and condition of Exposed Flashing
Learn how to recognize a properly installed Skylight
Describe the type and condition of Gutters and Downspouts


Lesson 6: Plumbing Systems
Identify the type and location of Water Service
Identify the type and location of Fuel Service
Describe the Water Entrance size and material
Identify and describe the type of Water Piping
Identify and describe the type of Waste Piping
Identify and describe the type of Vent Piping
Determine the method of waste removal
Identify and evaluate all Plumbing Fixtures
Identify and evaluate the Water Heater


Lesson 7: Electrical Systems
Identify the Service Entrance location and capacity
Identify the type of Service Line Entrance
Understand how to locate the Main Disconnect
Identify the location and capacity of the Main Panel
Determine proper Grounding and Bonding
Identify the location and capacity of Sub Panels
Determine the quantity of Circuits and Conductors
Identify and describe the Wiring Method
Identify GFCI and Non-GFCI electrical circuits
Evaluate Outlets, Fixtures, and Switches
Determine the presence of Smoke Detectors

Lesson 8: Attic Inspection
Learn how to locate and identify attic access methods
Understand how to identify the type of roof framing
Describe the type and condition of Ceiling Frame
Identify properly installed Roof Sheathing
Describe the type and condition of Attic Insulation
Learn the different methods of Attic Ventilation
Learn to evaluate Vent Pipes and Flashing in the attic
Understand how to recognize Holes, Gaps, or Leaks
Learn where to look for Moisture and Mildew
Lesson 9: Insulation & Ventilation
Understand the R Factor as it relates to insulation
Identify Vapor Retarders and understand their use
Learn how to recognize proper Crawlspace Ventilation
Determine the condition of Interior Ventilation
Understand the basics of exhaust Flue Ventilation
Learn how to recognize proper Plumbing Ventilation

Lesson 10: Interior Components
Identify the quantity of Bedrooms and Bathrooms
Identify and describe the type of Floors
Identify and describe the type of interior Walls
Describe the type and condition of Ceilings
Learn to evaluate different types of Entry Doors
Learn to evaluate different types of Interior Doors
Identify properly installed Stairs and Railings
Describe the type and condition of Windows
Learn where to look for Moisture and Mildew
Understand how to evaluate the Fireplace

Lesson 11: Bathrooms and Kitchen
Identify and describe the condition of Toilets
Identify and describe the condition of Sinks
Understand how to recognize proper Ventilation
Identify and describe the condition of Bathtubs
Describe the type and condition of Shower Walls
Identify and describe the condition of Flooring
Identify GFCI and Non-GFCI electrical outlets
Determine the level of Moisture and Mildew
Determine the condition of Kitchen Cabinets
Identify and describe the condition of Counters.
Identify and describe the condition of Flooring
Determine the method of Kitchen Ventilation
Identify and describe the condition of Sinks
Identify GFCI and Non-GFCI electrical outlets
Determine the level of Moisture and Mildew
Understand how to evaluate Built-in Appliances

Lesson 12: Basement & Crawlspace
Determine the type of Basement or Crawlspace
Describe the entry method to the Basement/Crawlspace
Identify and describe the type of Foundation and Columns
Understand how to evaluate Basement Stairs
Identify and describe the type of Basement Flooring
Describe the condition of Basement Walls
Describe the condition of the Basement Ceiling
Understand how to evaluate exposed Insulation
Determine the type and method of Ventilation
Understand how to recognize a Vapor Barrier
Describe the condition of floor Joists/Trusses
Learn how to identify the condition of Sub flooring
Identify and evaluate basement Floor Drains
Identify and evaluate basement Sump Pumps
Determine the level of basement Dampness

Lesson 13: Heating/Air Conditioning
Identify the heating system's location and fuel type
Determine the Furnace Age and Capacity
Identify the method of heat distribution
Identify and describe the Fuel Source
Learn to evaluate and describe a Heat Exchanger
Describe the heat distribution components
Understand how to identify proper venting
Learn how to recognize adequate Combustion Air
Identify and evaluate Humidifier Units
Identify and describe Air Filter Units
Identify the location and type of Supplemental Heat
COOLING SYSTEMS:
Identify the AC system's location and fuel type
Determine the AC system's Age and Capacity
Identify the method of cool air distribution
Identify the system's Electrical Disconnect Location
Describe the cool air distribution components

Lesson 14: Garage and Carport
Determine the type of Garage Structure
Describe the condition of the Vehicle Door(s)
Determine the functionality of Door Openers
Evaluate a vehicle door's Automatic Reverse
Identify and describe the type of Flooring
Describe the Walls, Windows, and Ceiling
Understand how to recognize a Separation Wall
Learn to evaluate a Door to a Living Space
Identify and describe garage Ventilation Systems
Determine the level of Moisture and Mildew
Identify GFCI and Non-GFCI electrical outlets

Lesson 15: Conducting an Inspection
Understand how to present your Client Agreement
Learn what to do when arriving at the property
Understand how to give a professional greeting
Understand how to review procedures with clients
Learn what to know when signing of documents
Identify the methods of performing the inspection
Learn to document with a digital camera
Understand how to respond to client questions
Learn how to give an After-inspection Summary
Learn how to prepare a written inspection report
Understand how to review a report with the client

BASIC COURSE

1.Common Terminology
2.Limits and Exclusions
3.Site, Grounds, Grading
4.Exterior & Structure
5.Roof Components
6.Plumbing Systems
7.Electrical Systems
8.Attic Inspection
9.Insulation & Ventilation
10.Interior Components
11.Bathrooms and Kitchen
12.Basement & Crawlspace
13.Heating/Air Conditioning
14.Garage and Carport
15.Conducting an Inspection
16.Setting up your business
17.Equipment and supplies
18.Taxes, Licenses, Permits
19.Record Keeping
20.Advertising & Marketing